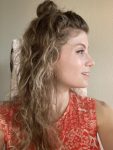 We are excited to have a new delegate at Tech Field Day Exclusive with Cisco 2022: Lexie Cooper! Lexie is an Avionics Integrations Engineer at Blue Origin. You can see more of Lexie on her Twitter at @TracketPacer or on the Tech Field Day Website.
Lexie took some time to tell us a little more about herself – here is what she had to say!
How did you get into Technology and IT?
After wandering around aimlessly for a few years, I decided my career needed a reset. Long story short, I found Cisco Net Academy, and eventually landed a NOC role at IBM.
What do you do now? Tell us a little about your current role.
I currently work as an Avionics Integration Engineer for Blue Origin, as part of the networking team on the New Glenn rocket. My team helps to ensure that the launch vehicle network will run smoothly during launch and recovery/post-recovery.
What are your biggest challenges?
Understanding networking technologies, with an aerospace industry spin. It's a very unique point of view and it's challenged my basic understanding of many technological principles.
Where do you see IT going in the next 3-5 years?
Automation, automation, automation. That's all I have to say about that.
What was your first computer? What was great about it? What is your go-to computer now?
My first computer was a Macbook. I was raised on Apple products and only branched out when I realized that they weren't (at the time) making that many computer games for Mac OS. My go-to computer is a custom-built gaming rig because of course.
How do you manage your work/life balance?
I'm just really good at forgetting about all responsibilities on the weekend, and after 5pm. Also during lunch.
If you weren't working in IT, what would you be doing instead?
I'd probably have tried & failed at like 15 other careers by this point. I really didn't know what the heck I was doing until I discovered networking, seriously.
What do you do in your spare time? Do you have any hobbies?
I spend a stupid amount of time playing computer games, and the rest of the time I'm either trying to get lost on a long run or staring at trees. If I'm being honest, being able to stare at big trees is what really motivates me to do well in life.
What are you most excited about seeing at the event?
Just stoked to find out about solutions to problems I didn't even realize were out there.
What is the coolest thing you're working on right now?
Slowly and painfully assembling a custom keyboard as I find the parts. Trying to put off the day when I will inevitably purchase a soldering iron.
Who inspires you?
I never know how to answer this question. To be honest, I try to emulate a lot of people with qualities I admire, but there isn't just one person who really sticks out to me.
As a child, what did you want to do when you "grew up"?
Exactly what I'm doing now, which is: play a lot of computer games & and explore the woods. That's all I ever want to do.
What super hero movie character would you like to be and why?
Venom. I'm a sucker for insane-looking anti-hero alien monsters, they're so freakin cool.
What is your favorite thing about what you do?
Rockets. There are rockets here. My office is like 100 feet away from a rocket
If you won the lottery and could retire, what would you do with your time?
What have I been saying this whole time? I'd play a ton of computer games & explore the woods. Probably find the biggest tree ever.
Thanks for sharing, Lexie! Be sure to see Lexie as a delegate at Tech Field Day Exclusive with Cisco 2022 March 16–17th!