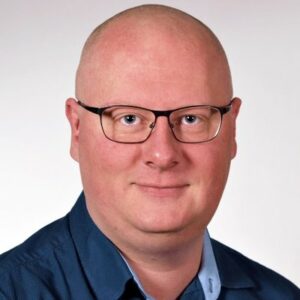 Kim Pedersen is coming to Networking Field Day 22 next week! Kim is currently a Senior Network Engineer/Architect at a VAR in Denmark, and his role also expands to running an international MPLS network. He holds several Cisco certifications, including CCIE (#29189) (RS and SP), CCDE (#20170021), the CCNA Wireless certification, and the entry-level certification in Juniper.
According to Kim's recent Attending Networking Field Day #22 blog post, this will be his first time in Silicon Valley! Hard to believe, right? 🙂 Connect with Kim at @KPJungle on Twitter, the web, or the Tech Field Day web site.
What are you most excited about seeing at the event?
That's a tough one. I think I'm looking forward to hearing all the presenting companies; what sort of real life problems they are trying to solve and how. The other delegates are really smart people, so getting some insights into their thinking will be immensely interesting as well.
How did you get into technology and IT?
It has been my interest for as long as I remember. My dad coming home with a Commodore 64 was the point of no return for me! That was my first computer. It was great to play games and do some interesting programming on it. My current computer is a MacBook Pro.
If you weren't working in IT, what would you be doing instead?
Probably live in solitude in a forest somewhere. It has a certain appeal, though not realistic.
What are your biggest challenges?
Having enough time to keep up-to-date with all the new technologies coming out across the networking landscape.
Where do you see IT going in the next 3-5 years?
I see the trend that started a few years ago with Automation and DevOps continue to play a huge role in day-to-day operations and will no doubt touch everyone's' work-life going forward.
I also see a huge opportunity for startups to get in on the action with platforms that simplify the automation process. Some of which has already presented at some Tech Field Day events.
How do you manage your work/life balance?
Short answer, it's a continuous struggle. When your work is your hobby and passion, it makes it hard to "shut off".
Do you have any hobbies?
I really enjoy reading. I'm a bit of a space buff, so I try and read everything I can get my hands on.
What is your current obsession?
To be humble and always be learning.
If you had a theme song, what would it be and why?
Danger Zone, the Top Gun song… I don't really know why though 🙂
Do you have any hidden talents?
If I do, they are still hidden from me as well.
If you could have dinner with anyone, living or dead, who would you choose and why?
Pretty much anyone involved in the 1960's space program. To pick their brains and simply be in awe of what could be done when humans decide to do something with full conviction.
What was the last book you read?
Einstein by Walter Isaacson
Who would you most like to swap places with for a day? 
I'm way too busy living my own life. I guess what comes the closest would be to go back to my earlier self and give some words of wisdom.
Thank you, Kim! Looking forward to having you at Networking Field Day 22! 
Remember to add Networking Field Day 22 to your calendars; February 12-14!