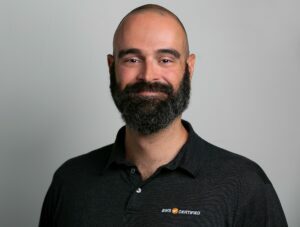 We are excited to have Chris Williams as a first-time delegate at Cloud Field Day 6 next week! Chris is currently an Enterprise Cloud Architect for GreenPages Technology Solutions. He is also active with VTUG and AWS-PUG and contributes to vBrownBag. Connect with Chris at @mistwire on Twitter, the web, or the Tech Field Day web site.
Chris "accidentally" got into Technology and IT by playing video games. His first computer was Commodore Vic 20 (with a tape deck). As he has journeyed through his career, he would say that his biggest challenges would be translating IT innovation into business solutions for his customers. In the next 3-5 years, Chris sees IT focusing more on infrastructure as code and coding in general.
HashiCorp is presenting at Cloud Field Day and Chris is looking forward to seeing what they have to offer; he has been meaning to get into Terraform for years now.
Here are some fun facts about Chris:
His hobbies include y

oga, guitar, video games, and learn Python.

Favorite kind of ice cream: Outback Sydney's Sinful Sundae with toasted coconut!
Favorite movie: Monty Python Holy Grail, The Matrix, Jaws, Blade Runner, Aliens, Pulp Fiction, Princess Bride, Empire Strikes Back (There's a ton of good movies out there… picking one is impossible.)
If he could have one super power, it would be telepathy like Prof X, then figure out how to help everyone get along. (I think that would be two super powers, but who's counting?)
Don't miss a minute of Cloud Field Day 6 happening September 25-27!  See you there, Chris! #CFD6