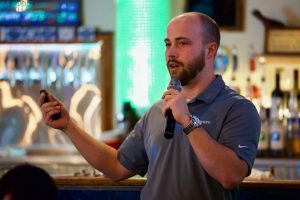 Before we see Wes Milliron at Tech Field Day 19, we wanted to get to know him a little bit. Connect with Wes Milliron on Twitter, the web, or the Tech Field Day web site.
We are so excited to have you as a first-time delegate at Tech Field Day 19! What are you most excited about seeing at the event?
I'm excited to see what's next in the industry, and to hear the opinions of other experts in the field. I'm always interested in getting under the hood with new solutions to see what really makes them tick.
Tell us! What do you do now?
I'm currently a Senior Systems Engineer for a regional retail company. My day-to-day activities primarily revolve around managing the company's hypervisor platforms, back-end storage, and hyper-converged infrastructure. As with any engineer, I'm constantly migrating old systems to new, laying out our strategy to reduce risk, and improving our overall IT posture.
How did you get into Technology and IT?
My interest in technology took off around the age of 12. I started playing computer games with a few friends of mine, and that turned into hosting VoIP servers in my bedroom so that we could communicate while we played. Later, that evolved into hosting/managing web and game servers as well. I've had a passion for providing IT services since my pre-teen years.
What do you feel that your biggest challenges are?
Many large companies struggle with changing technological direction for a variety of reasons, and my company is no exception. Disparate business units with varying priorities and limited resources make it challenging to be as "agile" as I would like.
Let's fast forward. Where do you see IT going in the next 3-5 years?
I believe the industry will be mostly revolutionized by containerized applications, automation, and increased intelligent cloud adoption. As applications are written (and re-written) to be run in containers, it will continue to abstract the hardware and underlying OS away from the application. This allows for easier adoption of hybrid-cloud and multi-cloud designs. Further, automation will continue to bridge the gaps between each layer of the stack. Many companies are striving toward this model today, and I believe they will reach those goals within the next five years.
What hobbies fill your spare time?
I coach soccer, hockey, and basketball for Special Olympics, and I also spend a lot of time running. Otherwise, I'm either exploring local breweries and restaurants, or planning my next adventure.
How do you manage your work/life balance?
I'm fortunate that I work for a company that allows flexible scheduling and remote work. This allows me to have more freedom to do what I want to do on my own time. As long as I'm not on-call, as soon as I'm done with work I'm able to mentally "check-out" and focus on my personal life. I'm lucky enough to have a manager that doesn't micromanage, and as long as I'm keeping up with my professional responsibilities, the rest is up to me.
What is your favorite movie?
Hands-down, my favorite move is The Shawshank Redemption. It's tough to pick a single favorite part, but I always enjoyed the scene where the inmates were tarring the roof of one of the prison buildings and Andy makes a deal to get his fellow inmates some cold beer on their last day of tarring. That scene ends with this particularly memorable quote for me: "We sat and drank with the sun on our shoulders and felt like free men. Hell, we could have been tarring the roof of one of our own houses. We were the Lords of all Creation."
What is your favorite kind of ice cream?
My go-to is get whatever flavor ice cream I'm in the mood for in a cone, served turned over in a bowl with whatever toppings I'm feeling like. It's the best of every world.
One last question… If you could have ONE super power, what would it be?
I would like to be fluent in every possible language. I would love to travel the world, meet as many people as I could, and spend my time doing as much good for the world as I am able.
We are looking forward to having you at Tech Field Day 19, Wes! See you soon! 
Tech Field Day is back and happening June 26-28, 2019. Mark your calendars, so you can catch the presentations live!