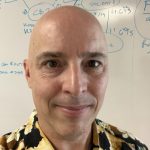 We'd like to introduce our newest delegate to the Tech Field Day community: Eric Stewart! Eric is a Network Engineer and team lead at the University of South Florida. He will be attending Networking Field Day 29 as a delegate and took a few minutes to tell us a little about himself.
Check out Eric on Twitter
@BotFodder
or on the
Tech Field Day Website.
How did you get into Technology and IT?
Someone sat me in front of an old Sun workstation to play a text game and then told me about the "man" command. That was almost 30 years ago.
What do you do now? Tell us a little about your current role.
Network Engineer and team lead for the University of South Florida. I touch everything from Azure cloud, optical DWDM gear, and routers.
What are your biggest challenges?
Learning the optical stuff right now, along with the start of the Fall semester, typically the busiest of the year.
Where do you see IT going in the next 3-5 years?
Well, considering I might be retiring (at least from USF) within three years … I haven't thought much about it. Hopefully some equalization of cloud vs on prem, or a pendulum swing in that realm.
What was your first computer? What was great about it? What is your go-to computer now?
An Apple IIc. Closest thing to a portable. Nowadays, either a Mac laptop or anything I can throw Xubuntu on.
How do you manage your work/life balance?
The dog helps with that since he needs walking. I tend to get in earlier than everyone else, and have my Teams go into DND at an appropriate time.
The dog helps with that since he needs walking. I tend to get in earlier than everyone else, and have my Teams go into DND at an appropriate time.
If you weren't working in IT, what would you be doing instead?
Twitch Streamer if I was lucky.
What do you do in your spare time? Do you have any hobbies?
Lots of PS5 gaming.
What are you most excited about seeing at the event?
I know a few of the other delegates from trips to Cisco Live, so the people! As for the event itself, we're a mostly Cisco shop so I'm really interested in seeing stuff from other vendors.
What is the coolest thing you're working on right now?
Dual 100Gb waves to upgrade connectivity to Internet 2, as well as implement a bit more redundancy in that connectivity.
Who inspires you?
Joe Rogers, but we lost him three years ago to cancer. He was my boss, my first real mentor, and a good friend. He was the smartest person I've ever met, and had both been on teams that had won DefCon as well as helped run the competition for like four years.
As a child, what did you want to do when you "grew up"?
That was so long ago. Dad was in the Navy, so there was a brief period where that was the plan; then it was Electrical Engineering. It's a longer story on how I ended up with a BA in Criminology …
What super hero movie character would you like to be and why?
Having to pick one isn't easy … at the moment, Iron Man. He's an engineer.
What is your favorite thing about what you do?
The dichotomy of when I do amazing things and no one notices, and then when I do fairly simple things and I get called a wizard.
If you won the lottery and could retire, what would you do with your time?
That goes back to twitch streaming – at this point, perhaps streaming my labbing and dedicating the time and effort to getting my CCIE, just to prove I can. Failing that, playing games all day. Perhaps dedicating time to a dog rescue.
Thanks for sharing, Eric! Be sure to see Eric as a delegate at Networking Field Day 29, September 7–9!