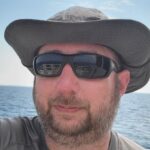 We'd like to welcome one of our newest delegates to the Tech Field Day community: Greg Grimes! Greg is a Senior System Engineer focused on networking and security He will be attending Networking Field Day 31 as a delegate and took a few minutes to tell us a little about himself.
Check Greg out on Twitter @Thespis377 or on the Tech Field Day Website. 
How did you get into Technology and IT?
My dad brought home a Tandy TRS-80 CoCo in the late 80s. I fell in love while learning Basic at the age of 12. A few years later he brought home a 486 PC. I have never stopped learning about computer systems since then.
What do you do now? Tell us a little about your current role.
I'm a Senior Systems Engineer with a VAR. I do pre-sales and post-sales engineering. I am mainly focused on networks, but also work on some security designs.
What are your biggest challenges?
Currently my biggest challenge is learning the sales side of this industry. I have almost 20 years of experience sitting on the other side of the table, and less than 1 year on the sales side.
Where do you see IT going in the next 3-5 years?
I see a lot of Cloud in the future, but less IaaS as cost causes more of the industry to move back to on-prem for non SaaS. I also hope to see more SD-Access in the enterprise to tackle some of the security challenges of moving those IaaS systems back on-prem.
What was your first computer? What was great about it? What is your go-to computer now?
Tandy TRS-80. I loved it because I had to learn how to program it in Basic. My go-to now is a PC with a lot of RAM. I prefer Linux over any operating system.
How do you manage your work/life balance?
It can be difficult in my current role. I do a lot of travel as a sales engineer. I'm still learning how to balance this job. I do have the pleasure of working out of my home. So, when I"m not traveling I am at home with my family more than I was at previous jobs.
If you weren't working in IT, what would you be doing instead?
Dive instructor maybe. It's hard for me to think of not doing something in IT or with computers.
What do you do in your spare time? Do you have any hobbies?
I am an avid SCUBA Diver. I'm a certified Dive Master and used to help teach students how to dive.
What are you most excited about seeing at the event?
I think I'm most excited to see what Backbox has to offer. I've been doing automation since the mid 2000s. Started with Perl way back then.
What is the coolest thing you're working on right now?
I'm currently designing a wireless network for the state parks in Mississippi. We are helping design outdoor wireless coverage for their RV parks as well as indoor lodge areas. It's challenging and every park is different.
Who inspires you?
One of my directors, Jeremy Sanders. I am always in awe of his insight and knowledge.
As a child, what did you want to do when you "grew up"?
I wanted to be an officer in the Air Force and do something with computers. I eventually enlisted in the AF, but even though I scored exceptionally high on the ASVAB they put me in the Security Forces career field.
What super hero movie character would you like to be and why?
Ironman or Batman. Mainly because they don't have super powers and use their brains to save the day.
What is your favorite thing about what you do?
I love meeting new people and getting to know them. I also really enjoy building new systems.
If you won the lottery and could retire, what would you do with your time?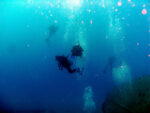 I'd probably get a PHD and teach somewhere. I really enjoyed teaching SCUBA. I also really enjoyed my Master's courses at MSU when I would get to teach a class on a specific topic.
Thanks for sharing, Greg!
Be sure to see Greg as a delegate at Networking Field Day 31 April 12-13!